HOLIM , started in 2019, is Kimly's very own concoction of local beverages!
LAUNCHING NEW FLAVOURS!!
MILO Series
Milo Peng
Milo Dinosaur
Chin Chow Milo Peng
CHIN CHOW (Grass Jelly) Series
Chin Chow Teh Peng
Chin Chow Kopi Peng
Chin Chow Milo Peng
Newly Launched at:
Blk 429, Choa Chu Kang Ave 4, 681429 (NEWLY OPEN!)
Blk 322 Sumang Walk, #01-01, S820322
Blk 147 Serangoon North Avenue 1, #01-419, S550147
New flavours coming soon to other outlets!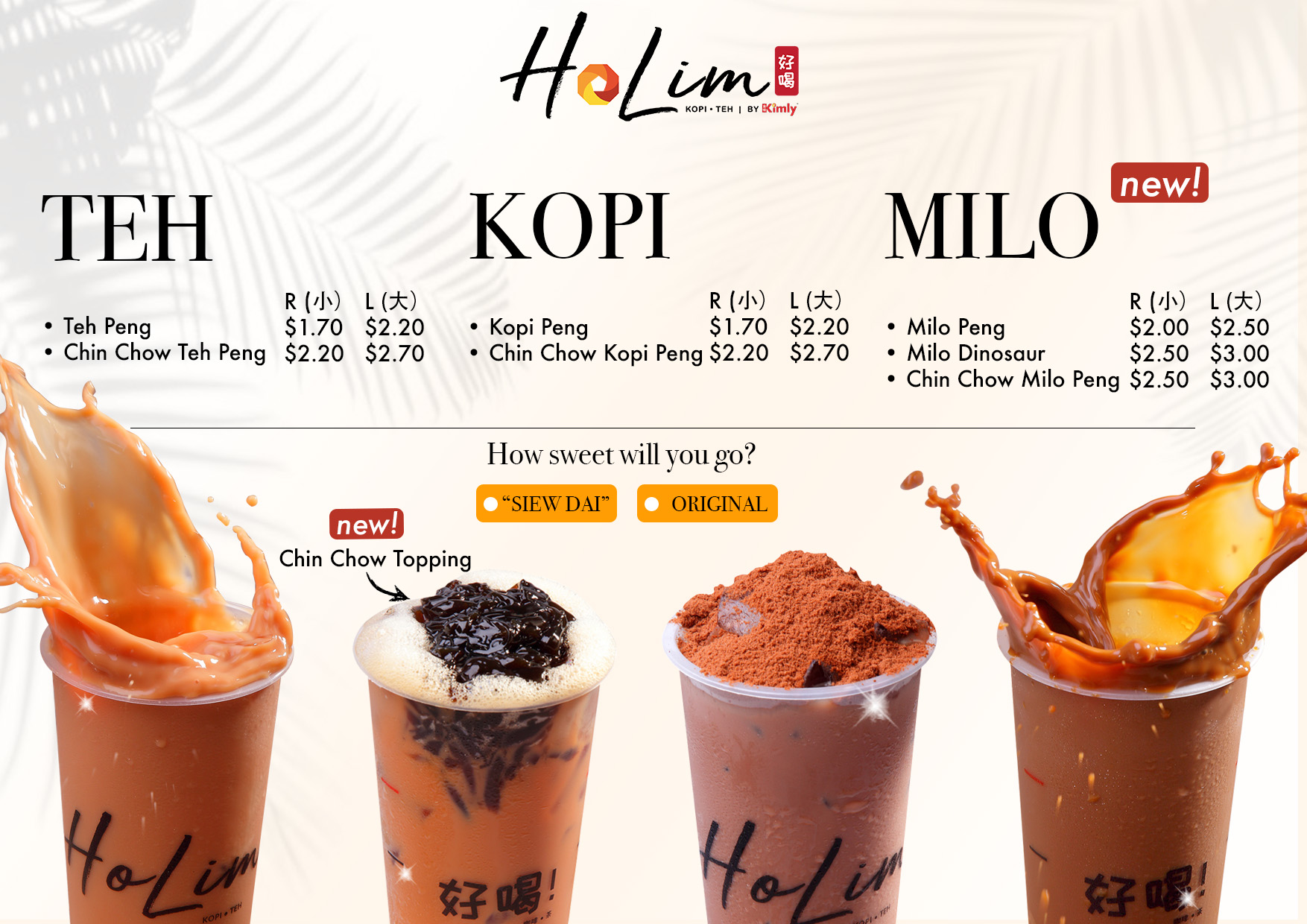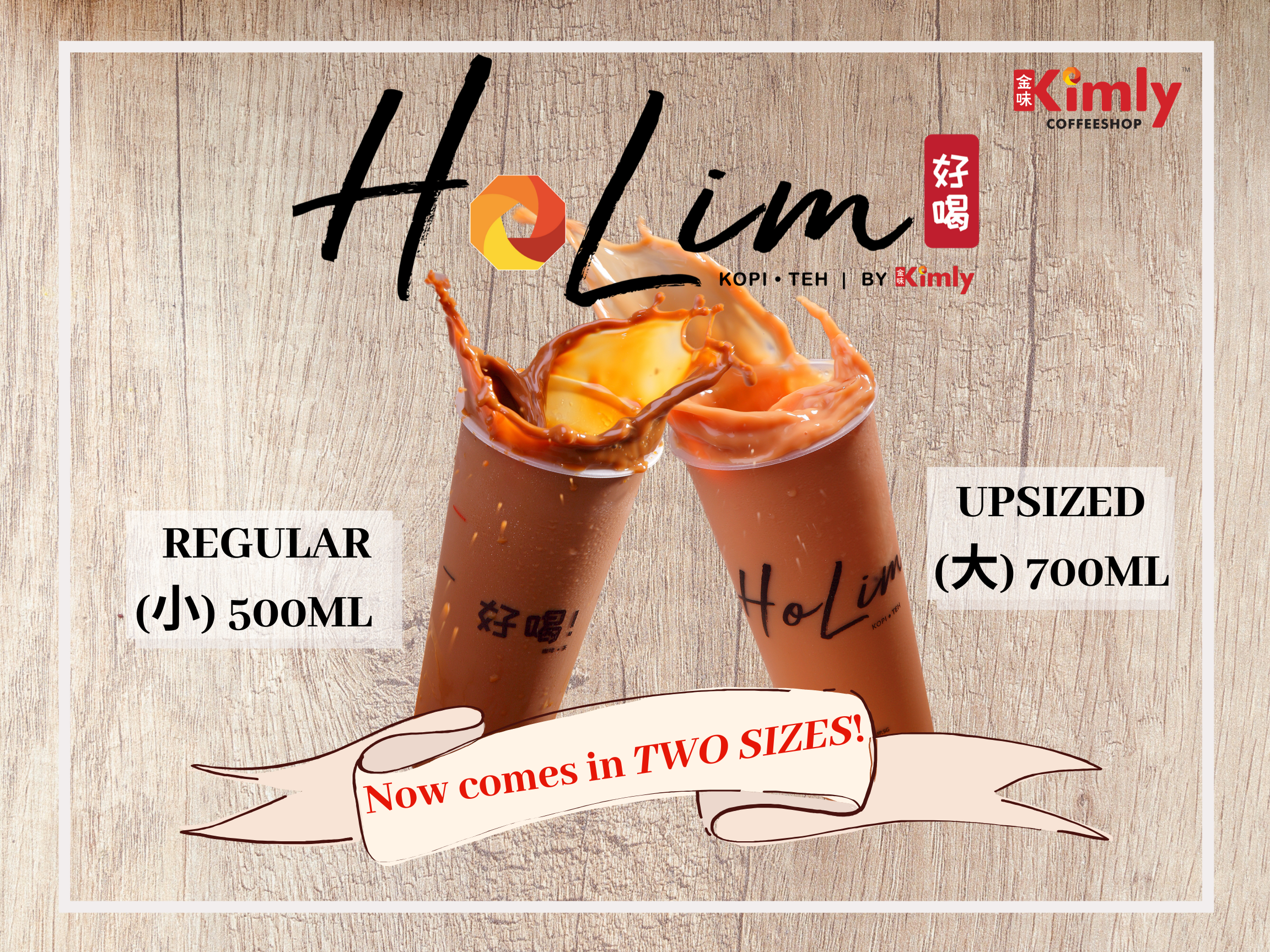 Ang Mo Kio Avenue 10
Blk 555 #01-1936
Singapore 560555
Ang Mo Kio Avenue 8
#01-2843
Singapore 560722
Bishan Street 13
Blk 514A #01-480
Singapore 571514

38 Jalan Pemimpin
M38, #01-04
Singapore 577178
Potong Pasir Avenue 1
Blk 146 #01-127
Singapore 350146
70 Serangoon Garden Way
Serangoon Garden Estate
Singapore 555966
Serangoon North Avenue 1,
Blk 147 #01-419
Singapore 550147
Serangoon Avenue 2
Blk 304 #01-14
Singapore 550304
Serangoon Avenue 3
Blk 237 #01-130
Singapore 550237
Sembawang Crescent
Blk 365 #01-10
Singapore 750365
Sumang Walk
Blk 322 #01-01
Singapore 820322
Toa Payoh Central
Blk 184
Singapore 310184
Bedok Reservoir Road
Blk 121 #01-210
Singapore 470121
Bedok Reservoir Road
Blk 631 #01-982
Singapore 470631
Bedok North Street 2
Blk 123 #01-142
Singapore 460123
Bishan Street 24
Blk 280 #01-24
Singapore 570280
Chai Chee Avenue
Blk 29B #01-60
Singapore 462029
Eunos Crescent
Blk 2A #01-2431
Singapore 401002
Hougang Street 22
Blk 246 #01-161
Singapore 530246
Hougang  Avenue 5
Blk 327 #01-156
Singapore 530327
Upper Aljunied Lane
Blk 1 #01-02
Singapore 360001
New Upper Changi Road
Blk 57 #01-1368
Singapore 461057
Pasir Ris Drive 6
Blk 444 #01-102
Singapore 510444
MSCP Tampines Street 72
Blk 742A #01-01 
Singapore 521742
Tampines Street 11
Blk 138 #01-116
Singapore 521138
Tampines Street 81
Blk 824 #01-38
Singapore 520824
Tampines Street 81
Blk 827 #01-128
Singapore 520827
Vertex
No. 33 Ubi Avenue 3, #01-08
Singapore 408868
Choa Chu Kang Avenue 4
Blk 429A #01-01
Singapore 640501
Gangsa Road
Blk 163A Multi Storey Car Park, #01-01
Singapore 671163
Jurong West Street 51
Blk 501 #01-251
Singapore 640501
Jurong West Street 61
Blk 651 Multi Storey Car Park #01-02
Singapore 640651
Teck Whye Lane
Blk 143 #01-243
Singapore 680143
Woodlands Drive 73
Blk 691 #01-05
Singapore 730691